Vacancy Circular No: NBE/Rectt./AD(M)/1-2018
National Board of Examinations (NBE)
invites applications for recruitment of Assistant Director (Medical)
Assistant Director (Medical)
Job Location:
New Delhi

,

New Delhi
Last Date: 21st April 2018
Full-time / Part-time / Contract / temporary / seasonal / internship
Number of Vacancy: 7 Posts
Educational Qualification: Candidates Should have A recognized medical qualification included in the first or second schedule of part II of Third Schedule (other than licentiate qualifications) to the Indian Medical Council Act, 1956. Holders of educational qualifications included in Part II of the Third Schedule should also fulfill the conditions stipulated in sub-section (3) of Section 13 of IMC Act, 1956. Desirable: Some training in medical education technology and or knowledge in the modern evaluation techniques including generation of MCQs, MEQs, analysis of the performance of the candidates etc.
Pay Scale: INR 56100-177500/- Per Month
Age Limit: Not Exceeding 35 years.
Application Fee (Non Refundable): Rs. 500 in the form of a Demand Draft issued by any Bank, drawn in favor of "National Board of Examinations" payable at "New Delhi". Applicant must write their Name, Date of Birth and mobile number on the reverse side of the DD. No fees are applicable for SC/ST/PWD applicants.
How to Apply:
Duly filled application form along with the following enclosures should reach,
The Assistant Director (Admin),
National Board of Examinations, Medical Enclave,
Ansari Nagar, Mahatma Gandhi Marg, New Delhi - 110029.
Attested copies of Educational qualifications / Experiences.
Caste certificate in respect of SC, ST, OBC candidate.
Experience Certificate in respect of each experience claimed. The envelope should be superscribed with APPLICATION FOR THE POST OF "ASSISTANT DIRECTOR (M)."
Important Dates:
Published on: 12th April 2018
Last date for application is:
21st April 2018
For more details, please refer to official notification at Download Official Notification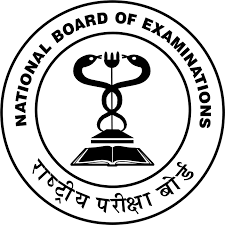 National Board of Examinations (NBE) is an autonomous body under the Ministry of Health, Government of India, and was established in 1975 at New Delhi to standardizing postgraduate medical education and examination in the country. The postgraduate degree awarded by the National Board of Examinations is called the Diplomate of National Board (DNB). The list of recognised qualifications awarded by the Board in various specialties and super-specialties are approved by the Government of India.
The National Board of Examinations conducts the largest portfolio of examinations in the field of medicine in India and perhaps at a Global level. The National Board of Examinations conducts the following examinations:
a) Centralized Entrance Test for admission to DNB Broad Specialties.
b) Centralised Entrance Test for admission to DNB Super Specialties.
c) DNB final (exit) examinations.
d) Screening test for Indian Nationals with foreign medical graduate qualifications.
e) Fellowship Entrance and Exit examinations.
f) AIPGMEE
Notification for Examination is declared on the website: www.natboard.edu.in
National Board of Examinations Contact Number is: +91-11-45593000
National Board of Examinations Address:
National Board of Examinations
Medical Enclave, Ansari Nagar
Ring Road, New Delhi-110 029
National Board of Examinations recruitment offers great career opportunities for several posts such as Prosecutor, Senior Scientific Officer (Aeronautical), Foreman, Assistant Legislative Counsel, Assistant Professor in Methodology Course (English/ Mathematics/ Social Science), Medical Officer, Junior Assistant, Registrar, Deputy Registrar, Medical Officer, Student's Counselor, Assistant Registrar, Technical Superintendent, Junior Technical Superintendent, Junior Superintendent, Staff Nurse, Pharmacist, Assistant Coach, Junior Assistant, Junior Technician, Dresser, Library Information Assistant, Technical Assistant, Forest Guard, Multi Tasking Staff (MTS), Stenographer, Deputy Superintendent (Fingerprint), Finance & Administrative Officer, Senior Accountant, Marketing Assistant, Consultant (Administration), X-Ray Technologist, Field Coordinator, Field Supervisors, Consultants Accounts, Assistant Professors, Physical Education Teacher.
Interested candidates can pursue courses in Graduate in any discipline plus bachelor's degree in Law, Degree in Aeronautical Engineering, Degree in Chemical Engineering, Degree in Electrical Engineering or Technology, Degree in Metallurgical Engineering, Master's degree in Law (LLM), Master's Degree in English, Master's Degree in Mathematics, Master's Degree in History/ Economics / Geography / Political Science, Bachelor's Degree in any discipline, MBBS, M. Phil in Clinical Psychology, M.Sc./ B.Tech/ B.E./ B.Sc./ Diploma in Engineering in appropriate field, B. Sc. in Nursing Science, Diploma or degree in Pharmacy, Bachelor's Degree with knowledge of computer applications, 10th standard, Bachelor Degree in Library Science, Intermediate + Speed of 80 WPM in English Stenography for a great career at National Board of Examinations.
Website: http://www.natboard.nic.in/
National Board of Examinations NAMS Building, Ansari Nagar, Ring Road New Delhi-110 029
New Delhi
,
India
Phone:
Fax: