Satyajit Ray Film Television Institute (SRFTI) was established in the year 1995. SRFTI is a film institute located in Kolkata, West Bengal. SRFTI is a premier institute of India for film training and is a member of CILECT (International Liaison Centre of Schools of Cinema and Television).

Satyajit Ray Film Television Institute has the following departments: The Department of Direction & Screenplay Writing, The Department of Sound Recording, The Department of Editing, The Department of Motion Picture Photography, The Department of Production Methodology.

SRFTI offers three year post-graduate diploma courses in : Direction and Screenplay Writing, Cinematography, Editing, Sound Recording, Production Methodology.
Assistant Professor ( 1 Posts)

View Job Details

Last Date for application: 19th February 2019

Job Location: E.M.Byepass Road, P.O. Panchasayar

Pay Scale: INR56100

Administrative Officer ( 1 Posts)

View Job Details

Last Date for application:

Job Location:

Pay Scale: INR44900

Skilled Work Assistant ( 1 Posts)

View Job Details

Last Date for application: 13th February 2019

Job Location: E. M. Bypass Road, P.O. Panchasayar

Pay Scale: INR56100

Lighting Assistant ( 1 Posts)

View Job Details

Last Date for application:

Job Location:

Pay Scale: INR44900

Upper Division Clerk (UDC) ( 1 Posts)

View Job Details

Last Date for application: 21st November 2018

Job Location: E. M. Bypass Road, P.O. Panchasayar

Pay Scale: INR56100

Consultant (Civil) ( 1 Posts)

View Job Details

Last Date for application: Full-time / Part-time / Contract / temporary / seasonal / internship

Job Location:

Pay Scale: INR44900

Professor ( 1 Posts)

View Job Details

Last Date for application: 26th September 2018

Job Location: E. M. Bypass Road, P.O. Panchasayar

Pay Scale: INR56100

Sound Recordist for Electronic & Digital Media ( 1 Posts)

View Job Details

Last Date for application: Full-time / Part-time / Contract / temporary / seasonal / internship

Job Location:

Pay Scale: INR44900

Technical Assistant ( 1 Posts)

View Job Details

Last Date for application: 15th September 2018

Job Location: E. M. Bypass Road, P.O. Panchasayar

Pay Scale: INR56100

Registrar ( 1 Posts)

View Job Details

Last Date for application: 8th August 2018

Job Location: E. M. Bypass Road, P.O. Panchasayar

Pay Scale: INR56100

Supervisor (Civil) ( 1 Posts)

View Job Details

Last Date for application: 30th July 2018

Job Location: E. M. Bypass Road, P.O. Panchasayar

Pay Scale: INR56100

Psychologist ( 1 Posts)

View Job Details

Last Date for application: 24th May 2018

Job Location: E.M. Bypass Road, PO: Panchasayar

Pay Scale: INR56100

Assistant Broadcast Engineer ( 2 Posts)

View Job Details

Last Date for application: 2nd May 2018

Job Location: Kolkata, West Bengal Last Date: 2nd May 2018 Full-time / Part-time / Contract / temporary / seasonal / internship Number of Vacancy: 2 Posts Educational Qualification: i) Graduation from a recognized University in any stream with Certification from a recognized institution (Educational or Commercial in Electronics / IT / Signal processing) ii) At least TEN years experience in Digital or Electronic media production

Pay Scale: INR56100

Videographer for Electronic & Digital Media ( 1 Posts)

View Job Details

Last Date for application: Full-time / Part-time / Contract / temporary / seasonal / internship

Job Location:

Pay Scale: INR44900

Production Manager (Electronic & Digital Media) ( 1 Posts)

View Job Details

Last Date for application: 2nd May 2018

Job Location:

Pay Scale: INR Pay Level-2

Lower Division Clerk (LDC) ( 1 Posts)

View Job Details

Last Date for application: 16th March 2018

Job Location:

Pay Scale: INR56100

Lighting Assistant ( 1 Posts)

View Job Details

Last Date for application: 16th March 2018

Job Location:

Pay Scale: INR56100

Skilled Work Assistant (Film Checking) ( 1 Posts)

View Job Details

Last Date for application: 16th March 2018

Job Location:

Pay Scale: INR44900

Part Time Professional Attendant ( 3 Posts)

View Job Details

Last Date for application: 15th February 2017

Job Location:

Pay Scale: INR56100

Associate Professor (Direction) ( 1 Posts)

View Job Details

Last Date for application: 30th November 2016

Job Location:

Pay Scale: INR56100

Animator ( 1 Posts)

View Job Details

Last Date for application: 30th November 2016

Job Location:

Pay Scale: INR44900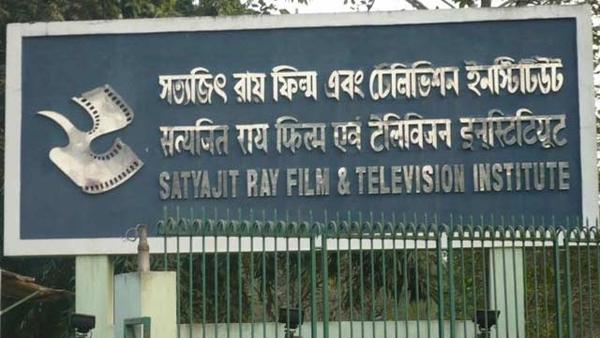 Website: http://srfti.ac.in/
Satyajit Ray Film & Television Institute E.M.Byepass Road, P.O. Panchasayar, Kolkata-700 094
Kolkata
,
West Bengal
700 094
Phone: 033-2432 8355/8356/9300
Fax: 033-2432-0723/9436